Plastisol Screen Printing
Plastisol ink is the most economic and high quality choice for screen printing the widest variety of apparel. Since they are very durable and opaque, plastisol inks are the most popular type of ink used in screen printing. Plastisol is vibrant, opaque, and affordable; additionally, plastisol is preferred when screen printing dark or boldly-colored fabrics.
Stylus Apparel has over 20 years experience working with plastisol inks. Our experience ensures your image is printed using the best techniques, ink and equipment on the market. If you are interested in viewing samples of our screen printing and plastisol work, please see the Sample Work gallery. We look forward to fulfilling your screen printing needs!
Plastisol inks can be printed on almost every material — but there are limitations to screen printing. Namely, plastisol inks cannot be used if the material isn't porous enough to absorb the ink, and screen printed plastisol inks cannot be used if the material cannot withstand heat treatment.
If plastisol ink isn't enough, remember we also do Water-Based and Discharge printing, as well as Specialty Plastisol Inks. Stylus Apparel also offers Foil Printing — perfect for high-fashion designs and that extra bit of "unique."
Get a Screen Printing Quote
Screen Printing Locations
Print anywhere you want, Stylus offers 360° printing options. There's no area we can't print on!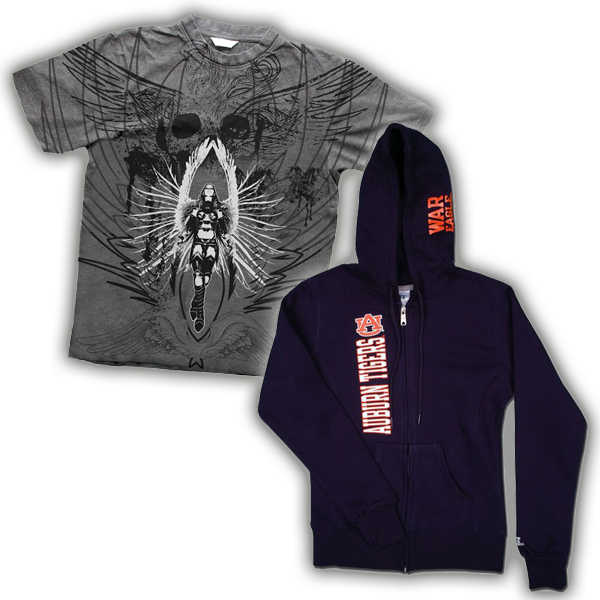 All over screen printing locations.
Standard Screen Printing Locations
Center Chest
Full Front
Left Chest
Upper Back
Lower Back
Full Back
Lower Left
Lower Right
Sleeves
Specialty Screen Printing Locations
Hood Print
Collar
Side Print
Inside Label
Over the Pocket
Over the Zipper
All Over
Plastisol Screen Printing Limitations
Heat is required to cure screen printing inks. If a fabric or material cannot endure the heat required to cure the inks, this method of printing is not a viable option.
Screen printing inks do not color the fibers like a dye. The ink wraps around the fibers and makes a mechanical bond with the fabric. For this reason, they will not adhere to non-porous substrates such as plastic, metal, and glass.
Plastisol ink will not adhere well to woven, waterproofed nylon material without adding a bonding agent.
Plastisol ink is heavy, so we do not recommend it for all-over printing or over the zipper printing.
Screen Printing Ink Stock Ink Colors
Please note: colors can vary depending on ambient light, your monitor and color calibration settings, and other factors. If precise color-matching (e.g., Pantone color-matching) is very important to you, please make sure to let us know.