Clothing Brands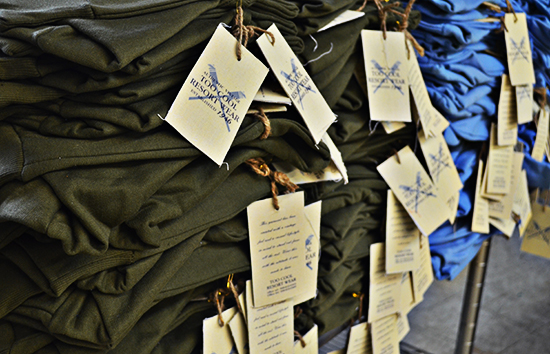 Stylus Apparel is a clothing manufacturer for apparel lines and brands, both large and small.
If you are trying to start your own clothing line, it's incredibly important to consider all aspects of the process very carefully. Creating a clothing brand does not start and stop with thinking up a design and just creating the prototype sketches. As a clothing line, you are directly responsible for your own success, from how fashionable your clothing designs are and how well they can sell, to choosing a clothing manufacturer and marketing your brand.
With the rise of a globalized economy over the last two decades, many clothing line founders have taken their manufacturing business overseas. Foreign fabric-makers and garment production facilities are incredibly busy, as many Americans facilities have shut down and thousands of jobs have been lost.
Now, however — minimums, turn-around, taxes, freight, customs, and prices have all risen overseas and clothing brands are starting to realize that producing domestically pays off.
Apparel Manufacturing Services
Why Choose Stylus Apparel as Your Clothing Manufacturer?
Despite the rise of a global economy and a recession, Stylus Apparel has stayed strong — by producing top quality garments with fast turn-around. There are many reasons to choose Stylus Apaprel as your clothing manufacturer — here are just a few.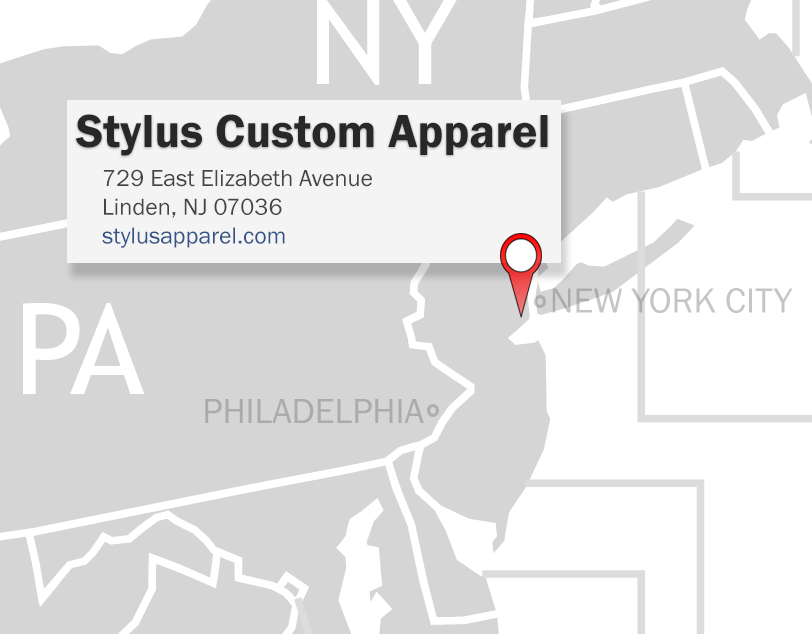 Stylus Apparel -- an American manufacturer for American-made clothing brands. We're located just minutes outside of New York City!
We are an IN-HOUSE Facility
When seeking a clothing manufacturer, you'll find a lot of "factories." Unfortunately, many of these factories are not in-house facilities. Instead of producing your garment on-site, these "manufacturers" outsource your garments to other contracting services. Stylus Apparel's production facilities are unparalleled. Full-service embroidery, screen printing, sublimation, and cut and sew services are located in the same building as the sales and order specialists you'll speak with when manufacturing through Stylus Apparel.
Real People in Your Time Zone
You will be able to handle everything in real, domestic time. If something needs to be changed throughout any apparel creation process — you can say so then and there. You will not have to wait three to four weeks between a sample leaving an overseas warehouse and arriving at your doorstep. Stylus Apparel is located in New Jersey, minutes outside of New York City. We are proud to say this helps us serve and satisfy our fashion industry customers rapidly!
American Clothing Manufacturing
If you choose Stylus Apparel to produce your clothing line's pieces, through each step of the process from pattern-making to sampling to production, you will be able to directly communicate and speak with the real Americans producing your garment. Your garments will be produced and made in the United States of America — you can come into our office and see, touch, and feel your sample garment. If you live outside the area, samples can be delivered within a few days rather than weeks.
Socially & Environmentally Friendly Apparel Manufacturing Processes
Stylus Apparel creates custom garments without sweatshop labor, without harmful production processes, without disregard for the global environment. Even if you yourself do not care about any of this, they can be huge selling points in today's market. Your customers may care where and how your garments are produced, much to your surprise!
High Quality Clothing Manufacturing
You will know that your clothing is well-made. Stylus Apparel manufactures only apparel and garments of the highest quality — your garments are our garments, after all. We enforce strict quality control processes to prevent low-quality or defective items from leaving our warehouse. If we would not wear it ourselves, it will not leave our facility.
Clothing Brands of All Sizes
Stylus Apparel has experience with a large number of clothing lines and brands of numerous sizes. Whether you just started your clothing line yesterday or you've been producing for years, Stylus Apparel can work with you, keeping the interests of your clothing line in mind above all else.
Wide Variety of Apparel Manufacturing Services
Stylus Apparel has a large number of services, ranging from direct embroidery to dye-sublimation printing. No matter what it is you want out of your customized apparel, we can help you achieve that. It's very difficult to find a clothing manufacturer who does so many different services under one roof — but Stylus Apparel does, and you can benefit from our umbrella of services.
Apparel Manufacturing Services
If you are interested in starting your own clothing line, we encourage you to Register with Stylus Apparel today. You will be able to access the whole site and submit designs and ideas to us for quoting, as well as place orders with us.